Elk Rapids Harbor Days – July 30 – August 2, 2014
Elk Rapids Harbor Days is a small town celebration with a big reputation in northern Michigan; make it a part of your summer plans! In 2014 Harbor Days runs from July 30 thru August 2. Events & Activities may include Comedy at the Cinema, Paddlebuoy races, harborun, parade, fireworks, chocolate bake off, diaper derby, toddler […]
Traverse City Film Festival – July 29 – August 3, 2014
The tenth annual Traverse City Film Festival will be held July 29 – August 3, 2014. Today we announce the names of the 200+ films that will make up this summer's special and awesome 10th Anniversary TRAVERSE CITY FILM FESTIVAL. A schedule of 230 screenings so grand, so filled with surprises, and so jammed-packed with […]
Elk Rapids Harbor Days is a small town celebration with a big reputation in northern Michigan; make it a part of your summer plans! In 2014 Harbor Days runs from July 30 thru August 2.
Events & Activities may include Comedy at the Cinema, Paddlebuoy races, harborun, parade, fireworks, chocolate bake off, diaper derby, toddler trot, Ballin' at the Bay, pet show, sandcastle building, senior luncheon, carnival, musical entertainment, "The Lego Movie" in the park, kid's day, bake sale, penny scramble, and more.
Harbor Days is traditionally known to have one of the best fireworks displays in northern Michigan, provided by world famous Zambelli's pyrotechnics. Imagine relaxing on the beach or your boat after a busy day and watching the dazzling array of fireworks lighting up the evening sky and reflecting into the water below.
The entertainment begins on Wednesday evening with the much-anticipated Evening On River Street. Enjoy a street fair atmosphere with a cornucopia of sights and sounds to satisfy your appetite for food, music and entertainment.
The days following include activities geared to the young and old alike, sandcastle building, outstanding musical entertainment, a carnival, Kids Day activities and so much more.
The Harbor Days celebration culminates on Saturday with a parade down the streets of town with local dignitaries, floats, bands, and of course Miss Elk Rapids!
Visit Harbor Days Website >>>>
The tenth annual Traverse City Film Festival will be held July 29 – August 3, 2014.
Today we announce the names of the 200+ films that will make up this summer's special and awesome 10th Anniversary TRAVERSE CITY FILM FESTIVAL. A schedule of 230 screenings so grand, so filled with surprises, and so jammed-packed with just great movies, it took us a decade to pull it all off.
What surprises, you ask? For starters, we have not one, but TWO new venues.
And one of them isn't on land!
Yes, our newest theater will be right in the middle of Grand Traverse Bay. That's right — Movies on a Boat! We'll take your ticket at the dock, you'll board the boat, and you and the rest of the audience will head out onto the water to watch a great movie under the stars.
Then there's The Buzz — our other new venue, named after our beloved festival friend, the late Buzz Wilson, and dedicated to bringing you the most inspiring, interesting, and intelligent movies completely FREE of charge all day, every festival day. This is also where we'll be hosting our special look back at some of the most memorable films from the past nine years. And did I mention — it's all for FREE!
You'll also notice a few other exciting 10th Anniversary additions: We're starting the festivities a week early with Movies Around the Bay (six nights of movies before the festival in theaters from Petoskey to Manistee); showing the best Open Space films from the past nine years; sending, in real time, the Traverse City Film Festival around the world (the movie that's playing at the State will play on all seven continents at the same time); having a star-studded auction to raise money for our Walk of Fame; and much more (which we'll be announcing in the coming weeks!)!
But the real star attraction remains the movies — and this year, in true 10th Anniversary style, we have more than we've ever had before (an increase of more than 55 short and feature films, and over 40 more screenings than our last record-breaking year).
Visit the Traverse City Film Festival Website >>>>
<>
Traverse City Film Festival on Facebook
<>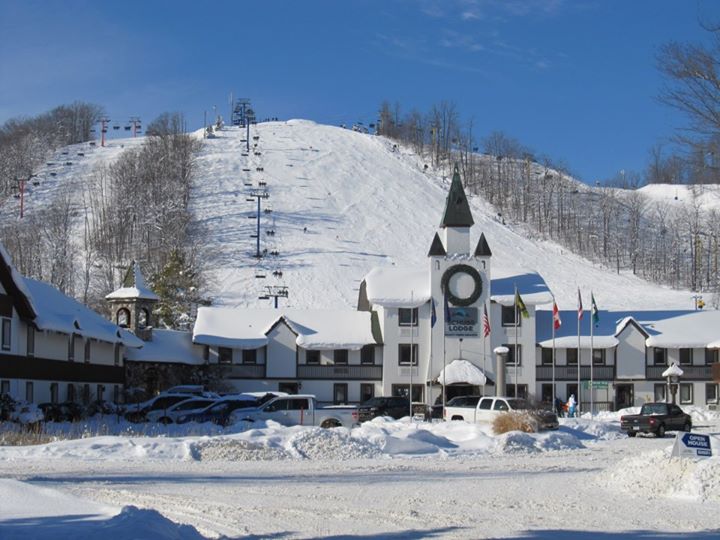 There are plenty of improvements at Shanty Creek Resorts in Bellaire, including a new fleet of rental equipment from Volkl, Marker, Dalbello, Tecnica, K2, Burton and Scott; new ski school leadership and improved lesson programs; family-friendly, lower lift ticket prices for children 9-12 years old; more discounted ticket and rental options available online for advanced purchase; and "Summit Only" lift tickets—Michigan's best value—starting at only $15 on weekends.
In addition, there are improvements to snowmaking infrastructure and capacity; improvements to Schuss Mountain's Monster Park and the Big Air Launch Pad; improvements to the racing and NASTAR infrastructure and facilities; more mid-day Saturday and Sunday slope grooming for improved snow conditions throughout the day; lodging improvements on property-managed units at Summit Village and Cedar River Village and more time to ski at Schuss Mountain with extended hours and a ski season scheduled through March 31.
Seniors 70+ and kids eight and under can purchase a lift ticket for $5 or a season pass for just $24. Kids 8 and under ski free when lodging or in ski school at Shanty Creek Resorts.
Visit Shanty Creek Website >>>>
More News From Shanty Creek Resort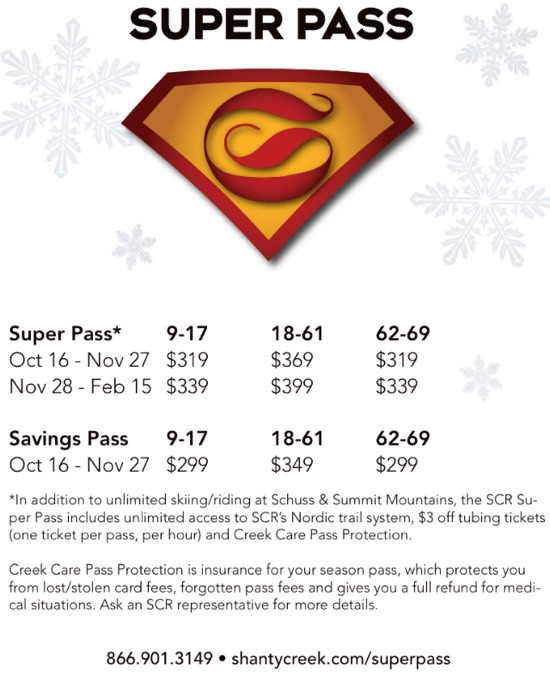 <>
Super Pass*
*In addition to unlimited skiing/riding at Schuss & Summit Mountains, the SCR Su- per Pass includes unlimited access to SCR's Nordic trail system, $3 off tubing tickets (one ticket per pass, per hour) and Creek Care Pass Protection.
Creek Care Pass Protection is insurance for your season pass, which protects you from lost/stolen card fees, forgotten pass fees and gives you a full refund for medical situations. Ask an SCR representative for more details.
Visit Shanty Creek Resorts Website >>>>
More News From Shanty Creek Resort

2013 Antrim Ski Academy Ski Swap
November 29 & 30 • Grand Ballroom at The Lakeview Hotel
Summit Village • Shanty Creek Resorts
5780 Shanty Creek Road • Bellaire, MI 49615
The Antrim Ski Academy equipment & clothing sale is our biggest fundraiser
of the year and the proceeds go towards funding our scholarship program and helping to
support the Elk Rapids and Bellaire/Central Lake/Mancelona high school ski teams.
CHECK IN
Friday, November 29 – 5 – 8pm
Bring in your equipment and clothing for placement in Saturday's sale.
We will have experts on hand to help you price your items.
Late check in will be available Saturday morning from 8 – 10am,
but we encourage you to utilize Friday nights check-in.
We accept downhill, cross country and snowboard equipment, ski racks, ice skates
and roller blades. Bindings are accepted but must be mounted to a board.
Clothing, accessories and helmets are also accepted. The club will only accept
serviceable and sellable equipment. Please, no long straight skis.
Antrim Ski Academy will take a 20% commission on all sold goods.
SKI SWAP
Saturday, November 30 – 9am – 5pm
We have lots of quality equipment available all day Saturday and have a good selection
of kids skis and boots throughout the sale. If you can't make it early, you will still have the
opportunity to find some really good deals.
EQUIPMENT PICK UP
Saturday, November 30 – 5 – 6pm
Any equipment not picked up will become the property of
Antrim Ski Academy and may be disposed of. Sorry, no exceptions.
We will mail out any checks that are not picked up.
PROCEEDS FROM THE EVENT ARE USED FOR:
Funding 100% of our scholarship programs. Each season ASA accepts 10-15 scholarship students
into our programs, at no cost to the scholarship recipients.
Purchase of new equipment for ASA, including gates, training gates, timers, etc.
Offsetting the costs of ski and snowboard clinics. The fees charged for most of our programs
do not cover the direct costs of coaching and additional funds are required.
In exchange for assisting in running the swap, ASA donates a portion of the swap proceeds to
both the Elk Rapids and the Bellaire/Central Lake/Mancelona High School Race teams.
<>
Visit Antrim Ski Academy Ski Swap Website >>>>
More News From Shanty Creek Resort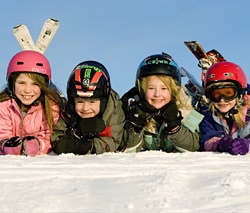 The Sardine Special, an SCR Original – While others boast six-for-this or five-for-that on Friday December 20, pack as many friends, family members, neighbors and anyone else you can find into your car and head to Schuss Mountain.
Everyone in your vehicle skis or rides for just $49 per carload. It is the best value on the slopes!
Sardine Specials
December 20, 2013 – $49/carload
January 5, 2014 – $149 per carload at Schuss Mountain ($49 per carload at Summit Mtn.)!
February 2, 2014 – $149 per carload at Schuss Mountain ($49 per carload at Summit Mtn.)!
Pay for an entire carload of people (as many as you can fit into your vehicle) for an entire day of skiing/boarding on Schuss Mountain!
In 40 years of the event – our current record for the event is 18 people in a Buick Elecktra 225 LTD… how many can you stuff into yours?
Get creative and ask everyone you know – the more people… the better the deal! See you there!
Visit Shanty Creek Website >>>>
More News From Shanty Creek Resort

Saturday, March 16
All activities take place in Schuss Village. Space is limited – please sifn up early. Registration closes 30 minutes prior to each event.
9:00am – 1:30pm — Event Registration (Ivan's)
10:30am — Coin Toss
11:30am — Frozen Fish Toss
12:00pm — Epic Happens Finals
12:30pm Saucer Race (helmets required)
1:45pm — VIP Seating Winner Announced
2:00pm Slush Cup (limited to first 50 registrants)
Sunday, March 17
10:00am – 12:00 noon — Registration (Ivan's)
12 noon — Blarney Stone Rail Jam
<>
Visit Shanty Creek Resorts Website >>>>
More News From Shanty Creek Resort

Join the Village of Empire at its 10th Annual Empire Asparagus Festival
2013 Schedule of Events
Please note that this schedule may be
subject to change as planning continues.
---
Friday, May 17th
strong>Dance & Pig Roast 7.00pm to 10.00pm
$5.00 Admission Fee
Come Dance & Dine on Art's Taverns famous Pig Roast and wash it down with one of your favorite Right Brain Brewery Brew!! It will be a foot-stompin' butt swingin' good time with music from THE BENZIE PLAYBOYS!!!!
---
Saturday, May 18th
5K Kick Ass-paragus Fun Run/Walk
10.00 a.m. entry fee of $20
Registration for the run starts at 9.00am at Empire Public Beach
11.00 am Asparagus Recipe Contest Asparagas Cook-Off
12.30pm "The Ode to Asparagus" Asparagus Poetry competition at the Glen Lake Library email entries to David Diller info@glenlakelibrary.net
1PM to 4 PM Empire Area Museum will be open. Click here to visit our site
Asparagus Eats/Wine and Beer Tasting under The BIG TENT
$2.00 Entry Fee (Under Twelves Free)
11:00 a.m. thru 4:00 p.m. featuring…
Norconks Asparagus/Fresh & Pickled Asparagus
Empire Village Inn
Gemmas Coffee Shop & Baked Goods
Joes Friendly Tavern
Deerings Market and Bakery/Asparagus Brats
Trattoria Stella
Black Star Farms
Right Brain Brewery/Asparagus Beer
ASPARAGUS FIESTA!
7:00 p.m. Enjoy Fresh local Food Prepared By Empire's own Joe's Friendly Tavern & Your Favorite Right Brain Brewery Brew With FREE LIVE MUSIC with TBA!
---
Sunday, May 19th
Sunday May 19th Empire Eagles Eagles Famous Breakfast
8am to noon at the Empire Township Hall
###
Visit the Empire Asparagus Festival Website >>>>
Click Here To Join the Empire Asparagus Festival Facebook Page!
A Celebration of Blossoms, Beauty and Bounty on Old Mission Peninsula
Saturday, May 18, 2013 • 11 a.m.-5 p.m.
Old Mission winemakers invite you to their tasting rooms for a sample of unreleased wines! Barrel and Reserve wines are showcased in addition to each winery's standard tasting list. The $25 ticket price includes a souvenir glass* and tasting at all seven Old Mission wineries. Enjoy the beauty of the blossoms and a weekend on Old Mission Peninsula!
Tickets go on sale 60 days prior to the event. Contact 231.223.4110 for further information.
*Limited number of commemorative glasses available.
Visit Wineries of Old Mission Website >>>>
The Leland Wine & Food Festival is a northern Michigan tradition held every year on the second Saturday in June (June 8, 2013). Noon til 6pm.
Come enjoy a day near the Leland Harbor and Leland's historic Fishtown tasting wines from local wineries and tasting the specialties from local restaurants and vendors.
Listen to live music in the park all day and enjoy the beautiful views of Lake Michigan and the Manitou Islands.
Admission is $15 and includes an etched wine glass and two tokens for wine tasting. Additional wine tasting tokens are available for $2. 10-21 or non-drinkers are $10 and under 10 are free.
Food vendors accept cash only. Participating Wineries and Food Vendors:
Wineries
45 North
Silver Leaf
Chateau Fontaine
Boathouse Vineyard
Bowers Harbor
Ciccone
Brys Estate
Verterra
Good Harbor
Good Neighbor Organic
Bel Lago
Black Star Farms
Blustone
Chateau Chantal
French Valley
Peninsula Cellars
Local Beer: Shorts Brewing
Food Vendors
Village Cheese Shanty
Leelanau Cheese
Bluebird Restaurant
Leland Lodge
The Cove
Pleva's Meats
Martha's
Village Inn
Stonehouse Bread
The Redheads (Kejara's Bridge)
Corky's Bistro
For more information on Leelanau County's wineries, visit the Leelanau Peninsula Vintner's Association site at LPWines.com
<>
Visit Leland Wine & Food Festival Website >>>>
<>
Leland Wine and Food Festival on Facebook
Sip, Savor and Enjoy This Fun "Girls Night Out" Event!
Friday, June 21, 2013 • 5:30-9:30 p.m.
Visit the Wineries of Old Mission Peninsula on this evening devoted to women, wine and food. Each of the seven wineries will offer a wine selection expertly paired with an appetizer prepared by one of Traverse City's best restaurant chefs. The evening also includes giveaways from local businesses and artists.
Tickets go on sale 60 days prior to the event and include a souvenir wine glass,* tasting and food pairings.
"Designated Divas" (those volunteering to drive) tickets will be offered at a discounted rate.
Purchase tickets together if you would like the same starting location. Location will be indicated on your ticket.
Contact 231.223.7615 for further information.
*Limited number of commemorative glasses available.
For sponsorship info, email info@bowersharbor.com.
Visit Wineries of Old Mission Peninsula Website >>>>
The Traverse City Wine & Art Festival returns to the Village at Grand Traverse Commons on Saturday, June 30, 2012 from 3-10 PM. Order your tickets today!
The festival is a landmark celebration of the wine, food and culture of Michigan's wine coast, featuring wines from the wineries of the Leelanau Peninsula, Old Mission Peninsula, Traverse City & Benzie along with a selection of Traverse City and Leelanau restaurants serving food & desserts. The 2012 festival is our fourth annual and will once again showcase innovative music & performance and original artwork from dozens of regional artists.
The Traverse City Wine & Art Festival is very excited to announce the headliner for the 2012 festival, national recording artist Rusted Root.
Rusted Root features founder and band leader Michael Glabicki (lead vocals, guitar), Liz Berlin (vocals, percussion) and Patrick Norman (vocals, bass, percussion). Glabicki says "We are a band made up of individual musicians who come together collectively to create music, call it what you want but we are simply creating music that has a message."
Rusted Root has sold more than 3 million albums worldwide, and Traverse City's own Rick Coates observes that the message has been resonating with fans for nearly 20 years. Get all the info about Rusted Root (including their new work) at rustedroot.com. Below is Send Me On My Way, interestingly enough chosen by NASA engineers as the "wake-up" music for the Mars Exploration Rover Opportunity Sol 21.
Visit Traverse City Wine & Art Festival Website >>>>
June 29 through July 6, 2013 in beautiful Traverse City, Michigan!
The Grand Traverse region, known for its world-record tart cherry harvest, bursts with visitors eager to savor the flavor of cherries tucked into everything imaginable. Each day Festival goers find cherry delights along with parades, family and kids events and entertainment. In all, there are more than 150 events along the shores of Lake Michigan's Grand Traverse Bay.
The Festival has been named in USA Todays top ten festivals for several years running.
There are over 150 events that took place in 2012! Check out our schedule of events for more information:
http://www.cherryfestival.org/2013-event-schedule
Volunteer for the National Cherry Festival!
http://volunteer.cherryfestival.org
PURCHASE TICKETS HERE!
Cherry Festival Event Tickets
Visit National Cherry Festival Website >>>>
Horse Shows by the Bay Equestrian Festival is a prestigious annual, multi-week summer event staged at Flintfields Horse Park in beautiful Traverse City, Michigan. Horse Shows by the Bay features thousands of the nation's best horses and riders competing in the International Olympic disciplines of show jumping and dressage. Flintfields is an 80-acre show complex on Bates Road, a half mile north of M-72 in Acme Township.
Spectators are welcome at our Feature Events. Feature events are scheduled on the weekends and include the exciting Gran Prix plus exhibitions, special family day activities and charity fundraisers.
Visit Horse Shows by the Bay Website >>>>
<>
Horse Shows by the Bay on Facebook
<>